If you love pizza and the thought of feeding your community thrills you, take a closer look at owning a pizza franchise. According to Pizza Magazine, pizza sales in the United States totaled $45.73 billion in 2019!
Pizza is one of America's most beloved foods. Perfect for a game-time meal, birthday party or date night. On average, Americans will eat 6,000 slices in their life! That's why there are hundreds of pizza franchises in the world. In fact, American pizza franchises have a great reputation worldwide. We reviewed many restaurants and listed the top 5 best pizza franchises – here they are!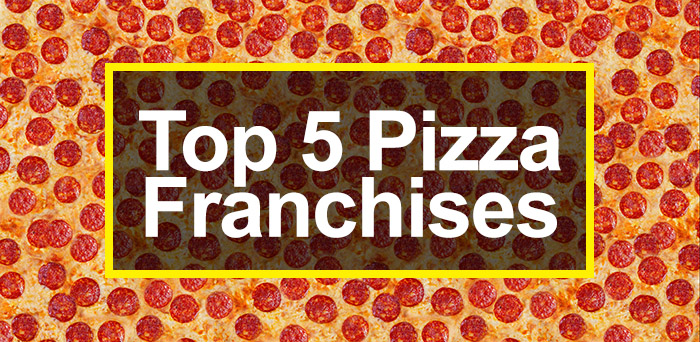 1. Domino's
This international franchise has been selling pizza since 1960 and began franchising in 1967. By 2010, Domino's Pizza had more than 8,000 locations in about 54 countries and now has gross sales of more than $12 Billion.
Domino's is by far, the world's largest pizza franchise based on their gross sales. The company was the pioneer of the pizza delivery concept which allowed people to receive their orders right to their door.
The Monaghan brothers (James and Tom), founded this company and originally called it Dominick's. What began as just one city restaurant expanded throughout the world and now has more than 15,900 stores in approximately 85 countries.
Apart from the pizza, Domino's draws a large portion of its revenue from selling ingredients such as toppings and dough to other companies.
2. Little Caesars
Sometimes, family businesses thrive, and Little Caesars is an example of that. Born from an idea that Mike Ilitch and his wife Marian had in 1959, they opened their first pizza shop. When brainstorming names for the shop, Marian came up with "Little Caesar" her nickname for Mike.
The couple's initial investment was $10,000 – – a lot of money in 1959 and in fact, their life savings. Soon after launching the restaurant, it gained traction with customers all over Detroit, MI. They then franchised it, setting it up for explosion in popularity. The brand has been ranked the fastest-growing pizza joint in the country. Today, they report total gross sales of about $4 Billion.
3. Pizza Hut
This American pizza franchise boasts more than 400 restaurants across the country. It all started in 1958 when Dan and Frank Carney (the Carney Brothers) decided to open a pizza restaurant. They borrowed $600 from their mother and invested it in the startup operaton. Then, they gave free pizza to all the customers who ordered on the first night. The Plano, TX based-business then grew fast around the state and expanded into other areas throughout the U.S.
Recently, Pizza Hut has come up with new ideas which include a Stuffed Cheez-It pizza and round pizza boxes. They also sell special dishes such as pan pizza and crusts. Their gross sales are about $12 Billion.
4. Papa John's
John Schnatter founded Papa John's in 1984. John realized that he was able to make better pizza and could deliver the pies in a better way at his father's bar in Jeffersonville, IN. Papa John's Pizza has continued to offer flexibility in their delivery and ordering systems. For instance, the franchise was the first pizza franchise to allow customers to order pizza on the internet.
They claim to use fresher ingredients than their rivals. The company offers free college tuition for some of its staff members to improve the employee relations. The Louisville Kentucky based restaurant franchise has more than 4,000 stores worldwide with reported gross sales of about $3.7 Billion.
5. (tie) California Pizza Kitchen
If you are looking for California culinary expertise, then you might want to try out the sauces and pizzas at California Pizza Kitchen. Founded in 1985 by Rick Rosenfield and Larry Flax, the Playa Vista-based pizza shop has become one of the staple restaurants in California, offering lots of Californian cuisines. The franchise also sells frozen pizzas to grocery stores.
California Pizza Kitchen is also the first pizza franchise to sell BBQ as well as Thai Chicken pizzas. Their Chinese franchise menu also has pork belly pizza while their Japanese outlets sell Unagi Pizza.
5. (tie) Papa Murphy's
Founded in 1995 by Robert Graham, Papa Murphy's was a merger between Papa Aldo's Pizza and Murphy's Pizza companies. Robert understood that people wanted more control over baking their pizzas.
For instance, customers wanted a take and bake pizza they could bake at their own home. So, Papa Murphy's introduced the take and bake concept and prides themselves on using ingredients that are so fresh they neither use ovens nor refrigerators.
Resources
https://www.franchiserankings.com/reviews-and-ratings-of-best-pizza-franchises