Owning your own business is a major commitment. With a franchise, you get the benefit of a working business model, which is why it is a good idea to start a franchise rather than start a business from scratch. But you must first find a franchise that meets your needs and budget. Here are some of the most crucial steps in evaluating a franchise, including some questions to ask a franchisor before making your final commitment.
1. Find the Right Fit
First, you need to find a franchise that fits your lifestyle. While some franchisors provide industry-specific training, you need to make sure you're entering an industry that you're passionate about.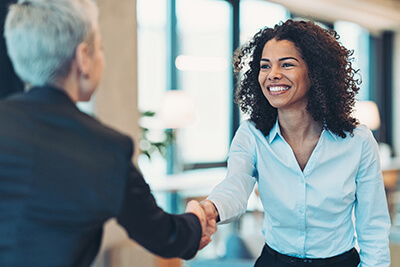 For example, if you love serving people or function well in a fast-paced environment, a fast-food franchise might just be a great setup for you. But if you prefer working from home, you might consider starting a franchise at a travel company that lets you work remotely.
Remember: the franchise agreement will dictate the minimum length of your tenure as a franchisee. Oftentimes, you'll be bound to your franchise for at least five years, if not more.
This is a good reason to ask yourself why you should start a franchise. With so many franchises to choose from, you're bound to find the right one for you, but it will only hurt you to commit to an industry you're uncertain of.
2. Read the Franchise Agreement Carefully
The franchise agreement explains two basic things: what your franchisor provides for you and what's expected from you (the franchisee). Read this document carefully and pay attention to things like:
The initial franchise fee
The cost of any monthly royalties
The length of your franchise agreement
The support offered by the franchisor
As you read through, it's also good to jot down questions to ask a franchisor if you move ahead to an interview.
Remember: this is a legal document, so you need to understand it thoroughly before committing. If necessary, you might consult a lawyer to explain any unfamiliar language or any terms and conditions you need to know about.
3. Read the Franchise Disclosure Document
Every franchisor is required to file a Franchise Disclosure Document (FDD). The FDD is a great research tool that contains information such as:
Company history
Past financial performance
Management team
Litigations
Bankruptcy information
While the franchise agreement will help you learn about what the company expects in the future, the FDD will provide a clear picture of how the franchisor has performed in the past. This data can be invaluable in evaluating the future success of the company as a whole, in addition to your role as a franchise owner.
4. Meet with the Franchisor
If you've explored this far, the franchisor will likely schedule a time to talk or even conduct a formal interview. This is a great time to seek clarification on how the arrangement will operate. Some common questions to ask a franchisor include:
What is my earning potential?
What kind of training/support do you provide?
Do you offer in-house financing?
Are there renewal options for the franchise agreement?
What is the company's litigation history?
Are there additional fees for marketing materials?
What is your company culture?
This is also a great opportunity to seek clarification on any parts of the franchise agreement or FDD. As a bonus, these sorts of questions will demonstrate your commitment to the company and your role there.
5. Meet with Other Franchisees
One of the best places to go for information might be other franchisees. If you have other franchise locations in your general area, it might be worth having an informal conversation about their experience working with the company.
These other owners/operators might help you evaluate why you should start a franchise with the company. They might also provide some insight on the best ways to obtain financing or how to navigate the startup period.
You might also inquire about how long they've been working with the franchise or about their future plans. The best franchises will have franchisees who have been with them for years and have plans to stick with the same company in the future.
Where to Find Your Next Franchise Opportunity
At Franchise.com, we provide great resources to help you start a career in a franchise. Use the franchise locator tool to see franchise opportunities near you, and you'll find a company that fits your passions, your lifestyle, and your budget.