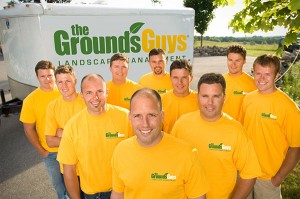 Congratulations to The Grounds Guys, one of Franchise.com's newest clients and a landscape franchise that is making a name for itself by landing on the Top 100 Landscape Companies created by Lawn and Landscape Magazine.
Chuck Bowen, Lawn and Landscape Editor and Associate publisher, said "The Top 100 is a very exclusive club, and being named to the list is a real honor. The companies on this year's list are examples of tremendous dedication and hard work."
The Grounds Guys are number 75 on the 2014 Top 100 List. "We are truly honored to be named one of the Top 100 Landscape companies in the U.S. by Lawn and Landscape Magazine," Chris Elmore, President of The Grounds Guys, said. "Our continued growth and success speaks not just to our brand, but to the dedication of our franchisees as well. Without our franchisees we would not be the company that we are today, and with them we look forward to continued success."
Tap here to learn what current owners of The Grounds Guys franchises have to say about their business and here to learn about the benefits of owning The Grounds Guys franchise.
A Little History
The Van Stralen brothers, all ten of them, started The Grounds Guys in 1987 under the name Sunshine Brands in Orangeville Ontario and sold their first franchise in 2005. Today, The Grounds Guys have more than 100 locations in the U.S.
The Grounds Guys Services
The Grounds Guys offer landscaping services to both residential and commercial clients including grounds care, lawn maintenance, tree planting, and snow and ice removal.
If you'd like to see if you qualify to be one of the next 100 owners to join this top rated and accelerating landscape franchise system, complete the form at the bottom of this page.