The franchise sector has experienced a tremendous shift since its inception some 70 years ago. A lot of changes have taken place, and a lot is expected to change in the future too. So, what is in store for the rest of 2020 for the franchise industry? Here are the top trending franchises to pay attention to: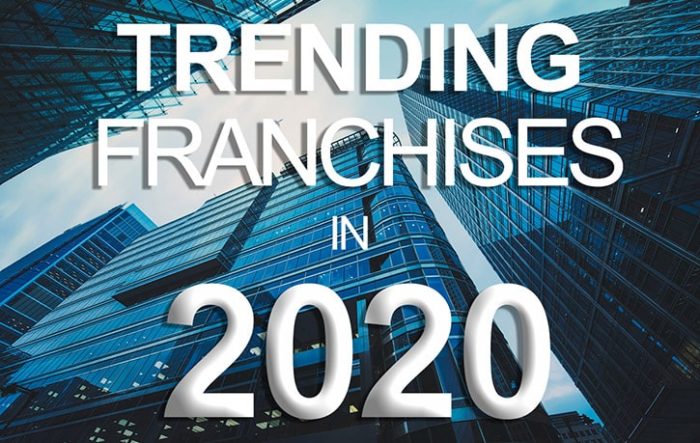 Food Franchises
Despite the extreme effects of the coronavirus and how franchises conduct business, Food Franchises remain a major topic of interest. Businesses continue to adapt to social distancing guidelines and prepare for the grand re-opening of the economy. Restaurant franchises that could remain open, switched gears to focus on gift card purchases, curbside pick-ups, and delivery. Many food franchises even contributed toward relief efforts by feeding first responders, kids in need and health care workers.
Mainly, customer loyalty and instant sales are helping franchises survive and thrive. Food and restaurants continue to maintain their popularity and necessity to keep communities fed and healthy. Therefore, the growing demand for consistent restaurant services is a contributing factor to the growth of food franchises.
Home Services
Home services is the second most inquired about industry in franchising. With more people working and schooling from home, there is more wear and tear on appliances, systems, and the overall structure. Consequently, this more-than-normal use is causing items to become damaged or to break.
Home services including cleaning, landscaping, and maintenance are always in need. And, consumers can find services at their fingertips with the growth of online and mobile apps that provide quick estimates, compare rates, and book reservations for service.
Business Services
According to Statista, in 2020 the U.S. business services franchise industry has an estimated output of $109.5 billion. The business service industry is vast and varied covering a large number of categories to assist business operations. To manage businesses effectively, professionals rely on B2B service providers. You can run such a business by offering any of the following services: accounting, advertising, billing, consulting, IT services and computer repair, cleaning, insurance, marketing, security, storage, tax preparation.
Wellness Franchises
Health and wellness are trends that have been rising steadily over the years. Consumers continue to invest significant portions of their residual income in wellness. This has, as a result, led to the growth of businesses providing wellness services. To back it up, the global health and wellness industry currently stands at a value of $4.2 trillion.
The industry can be further broken down into beauty, nutrition, fitness, spa economy, and preventive and personalized medicine. There are tons of opportunities: this might overwhelm entrepreneurs looking to venture into franchise ownership. To get started, you should first look to where your interests lie and assess if the investment is in your budget.
Educational Franchise
Educational franchises are also worth exploring. Services that can help children academically are in high demand. As time goes by, the number of children and people enrolling for educational services continues to rise. This has created tremendous opportunities for the educational franchise industry.
Franchisors have created business models that deliver high quality educational services. Intensive training for franchisees is done to ensure the objectives of this franchise category are met. It is, however, essential to note that passion and the desire to instill academic excellence in the students is required for an entrepreneur to derive satisfaction from such a venture. The educational franchise industry has a broad scope. It covers creative arts, technology, science, and engineering, to name a few.
Automotive Franchises
Automotive franchises are considered to be essential businesses and continue to grow. Currently, the automotive services industry is a $115 billion market. The automotive industry offers opportunities in auto sales, repair, service, and maintenance. You can find opportunities in transmission, industrial truck care, brake, muffler, rentals, detailing, bodywork, car washes, insurance, gas stations, and oil change franchises.
Entrepreneurs wishing to start a business have great opportunities before them. Operating a franchise allows you to become your own boss, minus the hassle of creating brand awareness and developing operational processes from scratch.
The franchise categories mentioned above have many opportunities for you this year. Our recommendation? First, establish where your passion lies and how much you are willing to spend before you get started. Staying updated with the current trends will help you step in the right direction.