What red flags will indicate that the business is in trouble? Unfortunately, there are far more than five problems you could run into when seeking a business for sale. That being said, this is not a reason to be discouraged, but instead to prepare yourself with a discerning eye—one that will help you make smarter decisions as you search for the right opportunities.
Below, read about what factors to consider when buying a business, some red flag examples we've chosen to examine closer, places to consider looking for your next business venture, and why franchising may be a good option. As you read, keep in mind that while these are cause to be worried, not all of them are necessarily grounds for immediate dismissal. Use these as principles to guide your line of questioning and decision making.
Red Flag #1. Urgency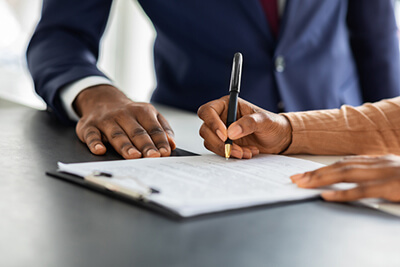 It's no secret that the business world is constantly changing, moving, and evolving. That can put pressure on entrepreneurs to make snap decisions, either out of hope to catch a trend as it starts or fear of missing out on a big opportunity. That being said, business decisions should never be made out of fear or anxiety, but with clear-headed examination and well-thought-out reasoning. If a business is pushing for a fast sale or encouraging you to move quickly, this should always warrant further questioning. Why exactly are they in a rush? It could be for a good reason, yes, but it could also be indicative of other red flags when buying a business—like the ones below—and the more urgent they are, the more concerned you should be.
Red Flag #2. Inaccurate or Unclear Finances
The steps in the acquisition process of buying an existing business will always include examining bookkeeping; for example, if you were looking into purchasing a franchise, you'd want to see the Franchise Disclosure Document (FDD). This is because you don't want to inherit a tangled accounting system or, in the worst case scenario, a heap of legal trouble. Not only should you be asking for detailed financial reports, but you should never take said reports at face value. Having the help of an accountant or other qualified persons is important for this step, whether you see a red flag or not.
Red Flag #3. Declining Sales
As you examine financial statements, be on the lookout for downward trends in revenue or, in the case of franchises, whether locations across the country are closing. While this is not always a sign of imminent failure, the importance of declining sales is amplified when coupled with other business red flags, such as an urgency to sell. Even if this doesn't point to a larger issue, finding downward trends in sales can give you leverage to buy at an even lower price, after which you can make some adjustments for a positive turnaround. In the case of franchising, declining prices in a relatively stable industry (such as food or health care) may also provide an opportunity for a larger profit margin down the road. However, the more long-term the decline is, the more cause for concern.
Red Flag #4. Poor Brand Equity
A good brand takes a long time to build, and oftentimes even longer to rebuild if it's been destroyed. Whether it's a brand that has yet to build loyalty, or one whose loyalty was recently tarnished, such a challenge is not so easily overcome. That said, like with declining sales, poor brand equity is not always a reason to forgo purchasing a business. Actually, inheriting a low-reputation brand can be an opportunity to make a huge turnaround—especially if the selling price is right. The thing to consider, though, is this will be a longer term investment, and said investment will come with added risk. Be sure you're ready to take it on.
Red Flag #5. Reasons for Selling
Everyone's motivations for moving on from a business are different, and not all of them are financial. But be sure to inquire about the owner's choice to sell, and pay close attention to how they respond. Owners have the advantage of knowing the company far better than you do, but you as a buyer can level that playing field by determining their reasons for selling. This also means looking past the general reasons given, such as a retirement or a personal change in direction. While that reason may be true, examining it against the above four lenses (as well as other factors), can help you zero in on the truth of their sale. If you're looking into purchasing a franchise, you could also meet with other owners in that same franchise to learn about their experiences, which can further help with your decision making.
Where Can I Find Businesses for Sale?
As you examine your options, it's good to know where to look. If you're unsure of where to start, franchising can be a good option, particularly for starting smaller while still working with an established brand. Franchise.com offers an extensive directory of the most popular franchises, categorized by industry, category, and even budget. While no business is inherently safe from any of the above red flags, franchises do carry some resistance to them—particularly because of their built-in brand equity and established customer loyalty, wherever they're located. There is also a higher corporate entity, meaning that you will have more resources in the buying process and to help your revenue grow if you do close the sale. Browse through our directory, and find opportunities that fit your business goals.
We at Franchise.com are proud to help entrepreneurs find business opportunities that will set them up for success. Established branding, a developed marketing plan, and assistance from corporate oversight can give you the tools you need to thrive as a business owner. If you're interested in learning more, visit Franchise.com to search franchise opportunities near you.