If you're considering starting a business format franchise, you're in good company–they are the most common and widely recognized types of franchise business plan. But what sets a business format franchise apart from the other franchise types? These 4 elements are essential:
The franchisee is licensed to use the trademarks and intellectual property of the franchisor.
The franchisor provides business systems and standards for running the business, along with ongoing support.
The franchisee is able and required to sell the franchisors products and services, and operate using their pre-set business practices.
The franchisee pays an original franchise fee, along with ongoing payments based on sales.
In this article we'll go into each of these four elements in more detail, along with more general information about business format franchises and the regulations that go along with them.
Quick Refresher: What Are Business Format Franchises?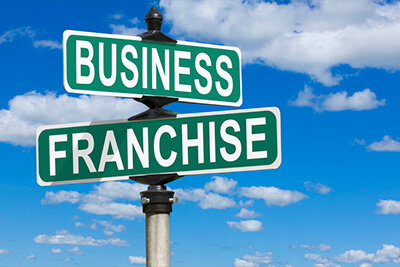 Business format franchises are one of the five major kinds of franchising available—the other four being product, investment, conversion, and job franchises. Business format franchises are the most common, and when you think of a franchise you know and love, chances are it uses this format.
One of the key things that sets business format franchises apart is that the franchisor provides not only the use of their brand, but also their business system and ongoing support. This sets a franchisee up for success with an established and refined way of doing business that has a proven history of profitability.
What Are the Four Elements of a Franchise With a Business Format?
Now let's look at the four key features of a franchise with a business format in more detail.
Franchisee Gets Use of the Brand
When a franchisee commits to opening a franchise location, they sign a contract with the parent company and then have a license to use the intellectual property (IP) of the franchisor. This IP usually includes things like:
Trademarks and copyrighted brand logos and slogans
Patents and designs
Proprietary business information and practices
Franchisor Provides Business Systems, Franchise Support, and Assistance
As a franchisee begins to plan their franchise location, they receive support and information from their parent company to make the process easier and standardized across all franchise locations. This assistance usually includes things like:
Business owner training for the franchises
Recommended or required buildout plans
An manual of operations
Staffing and training protocols
Business technology training, like how to use the franchise-recommended point-of-sales system
Franchisee Sells Provided Products and Services
Once a franchisee opens their franchise location, they are required to sell the products and services provided by the parent company. This ensures that the high quality customers expect from a franchise brand are met at every location. For example, when you open a Mosquito Joe's location, you agree to use the franchise-approved pest control sprays and best practices for eliminating mosquitos. That way each location provides the same great results Mosquito Joe franchises are known for.
Franchisee Pays Required Fees to Franchisor
Franchisees will pay a franchise fee when they sign the franchise contract that gives them the right to use the brand and products of the franchisor. This fee varies depending on the franchise, but is often in the range of $25,000 to $50,000. In addition to this original payment, most franchisors also require ongoing royalty payments, which are typically a percentage of the location sales. These payments are usually paid weekly, monthly, or quarterly, and the payment schedule will be set out in the original franchise agreement.
We've mentioned the franchise contract and documentation provided before someone agrees to become a franchisee several times. Let's take a closer look at what this document is and what it's required to have.
What Does the FTC Franchise Rule Require?
The Federal Trade Commission (FTC) is the governing body responsible for defining and enforcing the Franchise Rule. They state this rule "gives prospective purchasers of franchises the material information they need in order to weigh the risks and benefits of such an investment". The FTC requires this franchise disclosure document to cover 23 different elements of the franchisor's business, offerings, officers, and other franchisees involved.
The full FTC franchise rule disclosure requirements list is available in Subpart C: Contents of a Disclosure Document.
Franchise.com: Your Source for Franchise Insight
Deciding to start your own franchise is an exciting time, but all the available options can be overwhelming. Franchise.com gives you all your franchise options in one place, so it's easy to find the perfect fit for you! You can browse all listings, or search by industry, investment level, or state. Start looking for your new career with us.