"By failing to prepare, you are preparing to fail." While there's virtually zero chance Benjamin Franklin had franchising in mind when he said these words, his point is still important (and more than just slightly applicable). Whether you're training for a marathon, planning a quinceañera, or starting your own business, without a clear and well-defined plan, you're leaving too much to chance.
So you want to be a franchisee? You'll need, at minimum: ambition, creativity, and a well-crafted franchise business plan. But what exactly does a franchise business plan consist of, and how do you write one that lays the groundwork for success? Keep reading for the answers!
Why Do You Need a Franchise Business Plan?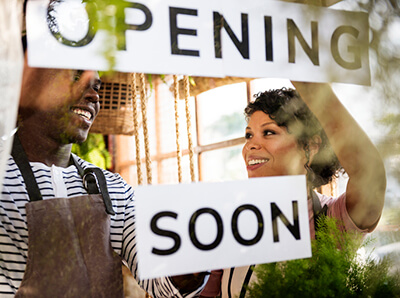 A franchise business plan works as a map or blueprint outlining various expectations, responsibilities, and milestones toward a successful franchise launch. As is true with any meaningful endeavor, one of the key success factors of franchising is planning and preparation.
A well-developed franchise business plan provides a planning structure that helps a franchisee to:
Know what to expect. If you've never operated a franchise before, you might not be aware of everything that goes into successful franchising. You'll need to understand the competitive landscape, the financial ins and outs, and what a positive franchisee-franchisor relationship looks like, and more.
Make sure there's a good fit between the franchisee and the franchisor. Pursuing a poor-fitting opportunity is in neither the franchisee's nor the franchisor's best interest. Before signing a franchise agreement, it might be helpful to network with other franchisees or consult with a mentor—especially if you're new to franchising.
Inspire confidence. For the franchisee, knowing what you're getting into helps you determine a franchise's viability. The research you'll perform when putting together your franchise business plan should be illuminating. A well-written franchise business plan also lets the franchisor—or investors—develop confidence in your potential as a business operator.
Avoid franchising pitfalls. The potential pitfalls of franchising (including hidden fees, imprecise income and revenue figures, and a lack of clarity around the relationship between franchisee and franchisor, according to Forbes) can be mitigated through effective preparation and business planning.
Secure funding. Similar to the point above, banks and investors minimize their risk by working with companies they're confident in. The franchise business plan is your opportunity to make the best case for yourself—and your abilities—as possible.
Identify next steps. It's important to identify your short- and long-term priorities, as well as the key next steps for making your business dream a reality. That way, you can prepare yourself to hit the ground running once any deal is signed.
How Do You Write a Business Plan for a Franchise?
Writing a franchise business plan is not necessarily a linear process, but using a template that contains the major components you'll need can give some structure and order to the work.
With that in mind, let's look at the nuts and bolts of what should go into your plan.
What Is Included in a Franchise Business Plan?
The nine most important elements of a franchise business plan are:
Executive Summary: This section describes the business and business model from a relatively high level, including the purpose and goals of the business. More specifically, it might contain information about the company's…

Mission statement
Goals and objectives
Products and services
Target market(s)
Company Overview: This is a more in-depth company overview covering the franchising history, as well as the franchise business model, ownership structure, and management team. The company overview should answer questions like "What will the franchisor and franchisee responsibilities be?" Much of this information can be found in the franchise agreement, an important component of the franchise ownership process.
Industry Analysis: This section demonstrates an understanding of the industry within which the franchise will operate, which can help build confidence for the franchisee as well as the franchisor. Industry trends—as well as trends in customer behavior and buying decisions—make the industry analysis section especially important.
Customer Analysis: With one or more target audiences identified, this section aims to learn more about ideal customers' preferences and priorities. From there, marketing and other efforts can be tailored to each potential market segment.
Competitive Analysis: Who are the franchise's main competitors, and how do they stack up? By considering each competitors' strengths and weaknesses, it becomes much easier to develop a plan for differentiation and competition.
Marketing Plan: The better you understand where you fit within the industry and market, the better-positioned you'll be to promote your business effectively. A franchisee's marketing plan should consider the elements we've covered, especially industry, customer, and competitive analysis. This section of the franchise business plan should highlight how you'll market and promote the franchise, including the competitive differentiators you can highlight as advantages.
Operations Plan: This section addresses practical considerations regarding the franchise's location. For example, how will the brick-and-mortar location be organized if it's a retail store? What are the ideal hours of operation? How will you staff key operations?
Management Team: A franchise's management team is crucial in translating the larger organization's objectives into a particular location's daily operations. This section of the franchise business plan should outline who will be included in the management team, their relevant experience, unique strengths and vision, and where each member of the team's responsibilities start and end.
Financial Plan: Though it is last on our list, the financial plan can make or break a franchise. This section of the franchise business plan should include materials like financial statements, income statements, balance sheets, and cash flow statements. In addition, this section should outline the franchise's specific funding needs, including the amount needed and how it will be allocated.
Together, the nine elements described above form a template you can use to start writing your franchise business plan.
What Is the Most Important Element of the Franchising Business Plan?
Each section of the franchise business plan serves a fundamental purpose, meaning valid arguments could be made for virtually any of the steps to be deemed the most important. So, it ultimately depends on who you ask.
For example, according to one article, "the first and most important part of the business plan is the executive summary" because it "lets potential investors know whether the project looks viable or not." Think of the executive summary within a franchise business plan like the introduction to a novel, or the first few minutes of a business presentation; an effective executive summary sets a solid first impression and demonstrates your business acumen. This point underscores the importance of planning and preparation as one of the key success factors of franchising.
Elsewhere, The How of Business outlines the vital importance of financial projections as "perhaps the most important part of a business plan." This makes perfect sense, especially when you consider that at the end of the day, money talks (and is literally the difference between success and failure).
Ultimately, it's up to you—as the franchisee—to carefully consider the advantages and disadvantages of buying a franchise, and to do so before signing a franchise agreement. From there, you'll need to fully commit yourself to the franchise's success. Ideally, the franchise business plan will serve as your roadmap.
Ready to Write Your Franchise Success Story?
Now that you know what it takes to create a successful franchise business plan, the only question is what kind of franchise you want to open. If you're still brainstorming your options, that's completely fine!
At Franchise.com, you can browse franchises by industry or category, investment level (including low-cost franchises), or narrow down your opportunities within a specific state. As you view franchises you're interested in, we've made it easy to request more information—simply click the Get Free Info button to get the ball rolling!