How can a letter of intent (LOI) help you secure your future in business? As a potential franchisee, your LOI will lay the foundation for your business plan and your relationship with the franchisor. As such, an LOI should be a part of every franchise business plan. And, if you find a franchise proposal sample, like the one provided by Corporate Financial Institute, you'll have a great layout for your LOI. But what does that look like as a potential business owner?
We'll address how letters of intent impact you as a franchisee, how to get started on your LOI, and the differences between a binding vs. non-binding letter of intent.
What Is the Purpose of a Letter of Intent?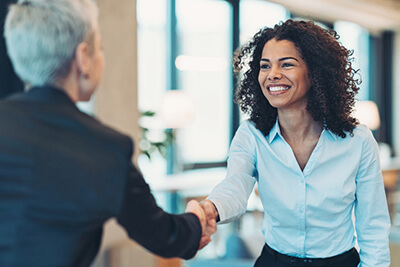 A letter of intent is a non-binding document that states a party's initial commitment to entering into business with another party. It lists the key parameters of that pre-contractual agreement that can be used in the final purchase agreement. An LOI contains terms such as conditions of the agreement, any requirements laid out by each party, deadlines, and parties involved in the transaction. In addition, a letter of intent is an important document that a potential franchisee and franchisor must obtain before buying or selling a business.
Besides formalizing the business arrangement, an LOI also serves the following purposes:
Provides a record of the first negotiations' progress
Identifies issues that must be addressed to secure a contractual agreement
Outlines a no-shop provision or a standstill period during which the seller is not permitted to negotiate with other parties
Enables the buyer to apply for financing from a lender
When a letter of intent is prepared between franchisees and franchisors, it enables the parties to specify their working relationships and future intentions without establishing a contract for the business partnership, with the addition of a significantly lower expense.
Is a Letter of Intent Legally Binding?
No, a letter of intent is not legally binding. It is a non-binding business agreement between parties that typically leads to a final purchasing agreement. While it's not legally binding, the LOI offers extensive details to demonstrate the franchisee's interest in buying the franchise. However, certain provisions of the letter of intent can be legally binding by themselves. A right of first refusal, for instance, would be enforceable. Another example of a condition that would typically be enforceable on its own is a nondisclosure agreement.
What Is a Letter of Intent Used for with Franchises?
The LOI acts as a confirmation that all parties have a clear knowledge of the terms of the deal and serves as a reference for drafting the final agreements.
It is also an effective tool for due diligence. It gives you an additional chance to evaluate if the franchise is the right fit for you as a potential franchisee. By completing thorough research, you're able to see what the franchise can offer you as a business owner and if it makes sense to invest in the company. You want to make informed decisions and estimate the potential investment costs.
To further research the franchise to complete a letter of intent, you should be asking questions like:
How does this franchise stand out from the competition?
What levels of support do you receive from the franchisor?
Is there any growth potential?
Does the business model align with your goals?
What is your overall budget?
How involved would you like to be in business operations?
Is there brand recognition, and how can you capitalize on it?
Once you do your due diligence, what must a letter of intent contain? A letter of intent for business purposes should include the following fully developed descriptions:
Terms of Agreement: Clarifies the key terms and conditions that will be applied to a business transaction and commitment
Rights and Obligations: Lays out the franchisor's responsibilities to the franchisee, which can be found when doing due diligence
Restrictions: Identifies restrictions like territories or non-compete clauses
Investment: Determines how much you are planning to invest in the business
Fees: Notes any ongoing costs you'll be responsible for over the life of your franchise agreement
Guarantees: Resolves the franchisor's promises to the franchisee, like minimum level of support
Exit Strategy: Introduces terms and conditions for ending the agreement
Location: Chooses where you'll be operating your business
Renewal Terms: Outlines how you can renew your contract and the conditions you need to meet
Prepare for Your Franchise Journey
At Franchise.com, we can help you find the top franchise businesses in your area, your price range, and your ideal industry. We were founded in 1995 and have been helping prospective franchisees reach their business goals as one of the first franchise websites in the world. By serving as a resource for the franchise industry and as a unique search engine for finding the appropriate business for sale, our innovative website connects the franchise community. You can find the most recent news on the franchise industry, additional franchise information, and in-demand tools.
Visit our website today to find a franchise that works for you!