You probably know what franchises are, but did you know there are different kinds? There are, and each differs in what you offer and how much of a franchise business plan the parent company, or franchisor, provides you with. Two types in particular are the business format franchise and the product, or product distribution, franchise.
In this blog, we discuss how those two types differ, give a couple examples, and discuss the advantages of each type. Knowing a bit more about them will give you a better understanding of what franchise would allow you to reach your professional goals. Let's jump in.
What Is the Difference Between Business Format and Product Franchising?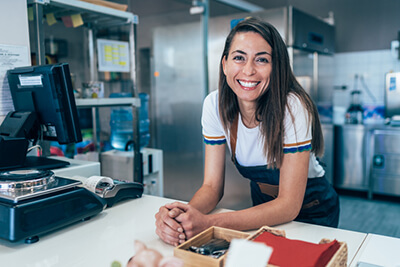 The differences between business format franchising and product distribution franchising come down to how the franchise is run as well as the responsibilities of the franchisor and franchisee.
In a business format franchise, the most popular type of franchise, the franchisor provides a proven business model to franchisees. They may also provide the training, equipment, national marketing, etc. that a franchisee needs for success. A franchisee will open a location of their own and control the day-to-day running of the business following the guidelines of the franchisor. Franchisees are also typically responsible for the staffing and marketing for their specific location.
With product distribution franchising, on the other hand, the franchisor is only responsible for providing the franchisee with products or services. The franchisee then takes the lead in actually distributing those products or services. In this type of franchise, the franchisor does not provide any sort of business plan to the franchisee. Because franchisees tend to be left to their own devices in this type, they typically need more market knowledge or business experience opening one of these franchises as opposed to a business format franchise.
What Are Product Franchising and Business Format Franchising Examples?
Typically the franchises that you see on any given street corner are business format franchises. One business format franchise example is Oxi Fresh Carpet Cleaning. This franchise provides the world's most environmentally friendly carpet cleaning services. When you choose to franchise with them, you will receive ongoing training and support as well as help with marketing strategies and a scheduling center for you to use. At your location, you then work on hiring employees, scheduling appointments, and the other day-to-day operations to provide the excellent, revolutionary clean that the brand promotes.
Now let's take a look at a couple product franchising examples since this type isn't as common. One is HealthyYOU Vending. When you invest in this company, you gain the ability to distribute their vending machines to places where healthy vending options are desired but not available. While the parent company will help you find locations to distribute your vending machines, you won't have to follow a set business plan or pay a franchise fee.
Another example of a product franchise is Dog Guard, an out of sight fencing dealer. When you invest in this opportunity, you'll receive training and resources on how to install the fencing, create market plans, and the other basics for running a successful business. From there, you take control and run your business as you see best. No franchise fees and no reporting to the parent company.
What Are the Advantages of the Franchise System?
Both franchise model types we've discussed come with their own unique advantages. Those advantages are:
Business Format Franchising
Ongoing support from the franchisor
A business plan that's proven to work time and time again
The resources you need to keep your business running
Product Franchising
Typically no franchise fees
Creative freedom to run your business how you want
More profit retention
On top of these advantages, both types also offer some similar benefits, too, such as:
No matter which type of franchise you prefer, you're sure to find the right one for you at Franchise.com.
Find Your Franchise Fit at Franchise.com
On top of figuring out what type of franchise interests you, you also have to decide which industry you're interested in, where you want to open your franchise, and how much you're willing to invest from the start. Luckily, Franchise.com makes it easy to narrow down your options. On our site, you can sort by:
State
Cost
Category
Sales Index
You can also check out the top 25 franchises and other big opportunities available to you. To begin your franchising journey, check out our directory.