After a strange year in 2020 for businesses across the country at every level, 2021 marks a transitional time for businesses as things start to return to semblance of normal. And that's the perfect chance to explore some of the best franchises to watch in 2021 and beyond. What makes a franchise successful, and what are some common themes when we look at examples of top franchises in 2021?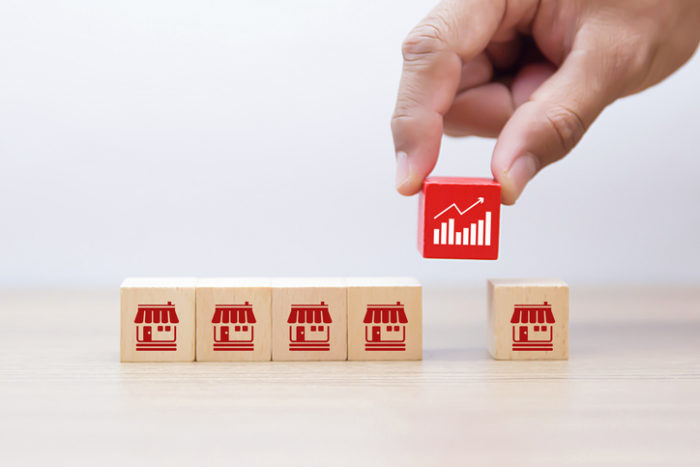 Great franchisors set their businesses up for success. As we look at some of the best franchises to own in 2021, some common themes will become apparent. Appealing to potential franchisees with a great product or service, an adaptable business plan, reasonable startup costs, and the training and support to grow—the franchises that do it best attract talent that can take the baton and run. Another common thread is the return on investment. These franchise models work because the success is repeatable.
So when you're looking for the best franchises to own in 2021, take a look at the examples below and see why they stand out as you compare to others.
Minuteman Press
This is a B2B Printing and Marketing franchise that boasts its ability to provide anything you can put a logo, image, or name on—from signs, apparel, stationary, banners, or anything else to help promote another business. And they've been doing it for forty-five years. They've remained open through the COVID-19 pandemic as an essential business and are still seeking franchise owners in all fifty states.
When leasing the equipment required to run a Minuteman location, the total investment from someone looking to own a franchise can range somewhere between $100,000 to $200,000, with financing options available. Monthly royalties to the franchisor are 6% of gross sales, but this comes with a cap, so there's room for real growth.
There's a lot to like here: room for economic growth in locations across the country, a reliable way to get equipment up and running quickly, and you're invested in a company with a long history and a good reputation, which increases the likelihood of immediate customers.
Grease Monkey
As the fastest growing quick lube chain in America, Grease Monkey stands out as a leading franchise and is a great ownership opportunity for those looking for consistent growth. The business finds itself as one of the fastest growing franchises, due in part to its low cost of entry, low inventory, and great franchisee and employee training. Franchisees should keep these numbers in mind:
5% royalty of gross sales
$157,000-$348,000 average investment
Minimum credit score of 675 required
10% royalty rebate possible
Pit Crew Certification is the term Grease Monkey uses for its training program to provide the best, expert-level customer service for all its employees. Their business model matches the commitment to training: great customer service. And this shows. For example, their EBITDAR average earnings for the top 68% of Franchisee owned centers is $237,251.
The training Grease Monkey provides its employees is representative of a larger successful theme: corporate support. Franchisees will receive project management and regional assistance to get started and ensure you're set up for success. In addition to training, they help create a local marketing plan including brick-and-mortar as well as online marketing strategy.
Chem-Dry
Chem-Dry is the world's largest carpet cleaning franchise, and it claims the title as the top carpet cleaning franchise by Entrepreneur magazine for forty years in a row now. Toting their unique hot carbonating extraction method, their cleaning protects carpets while reducing the water typically used by about 80%.
Their breakdown includes a more affordable startup cost, at about $68,000, also with financing available. And a loan is interest free until the fourth month of operation. These financing opportunities make investment in multiple business units possible, which makes Chem-Dry a more attractive buy on the list for best franchise to own in 2021. They also offer a 3-week training program that includes a week of hands-on and classroom-style learning at their headquarters.
Something that differentiates Chem-Dry from other franchises is its flat monthly franchise fee of $414.32. That way you know what's expected and what kind of business you need to create month-over-month to run your business.
Explore the best 2021 Franchise Opportunities
Interested in additional franchises that show promise in 2021? Franchise.com provides excellent resources for those looking to invest in the right franchise opportunities. With a franchise resource library and search tools and support, you can get real data to see the best companies to work with. Explore today to learn more.