Prime buying season has sprung and so has the growth of HomeVestors® of America. Commonly known as We Buy Ugly Houses®, HomeVestors is the number one home buyer in America and offers a low cost franchise opportunity for investors interested in building an independent real estate business. In the franchise model, franchisees use software to assess homes for purchase and renovation and then either renovate and sell or renovate and rent properties they buy.
During the company's annual meeting, the team announced outstanding results from their 2015 activities.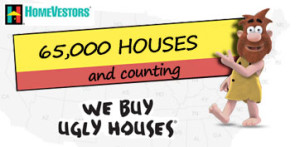 Mentionable milestones include:
202 new franchisees in 2015
Number of franchises now totals 660 franchises
65,000 houses purchased
Top 100 Franchises ranking on Entrepreneur Magazine's Franchise 500 List
"As we are celebrating our 20th anniversary this year, it is especially rewarding to reach 660 franchises and 65,000 houses purchased," said co-president David Hicks. "Our team has worked hard to achieve such success, and I'm proud to be a part of it."
2016 Housing Market Projection
Jonathan Smoke, chief economist for realtor.com, says the demand for for-sale housing will grow and will continue to be dominated by older millennials from the age 25 to 34. This demographic has the potential to claim a third of home sales in 2016 and represent 2 million home purchases.
About
HomeVestors of America, Inc. is based in Dallas, TX and is the largest professional house buying franchise in the U.S. HomeVestors® recruits, trains and supports its independently owned and operated franchisees who specialize in building businesses based on buying, rehabbing, selling and holding residential properties. Most commonly known as the "We Buy Ugly Houses®" company, HomeVestors strives to make a positive impact in each community.
Explore more about starting your own real estate business here.