If you've thought about becoming a business owner, you might have already explored possible options for making that happen. You could start from scratch, but that's intimidating for some. An easier route could be to look for a business for sale. If the latter option appeals to you, this guide will help you navigate how to do just that.
Is It a Good Idea to Buy an Existing Business?
It can be a great idea to buy an existing business or franchise. You can avoid much of the heavy lifting that comes with starting your own business when you buy a business that's already been opened. That's because:
You receive an existing business plan and brand. Instead of having to figure out how to run and market your business on your own, you use a strategy and brand that has worked in the past and that potential customers already recognize.
Established customers will follow the brand. When consumers recognize your brand, they are more willing to trust you and spend money on your products or services.
You have a better chance of receiving financing. Lenders prefer to loan money to businesses that have an existing business plan and have proven that either they make or will be able to make a good amount of revenue. They can better trust these businesses to pay off their debt.
You gain access to training opportunities. If you decide to open a franchise, the parent company may require both you and your employees to receive regular training to keep up with their standards. If buying a different type of existing business, you may acquire a team full of already trained employees.
Despite these benefits, not all existing businesses for sale in the USA or elsewhere are worth your money. You'll need to keep some factors in mind when determining which one to purchase.
What Businesses Are Worth Buying?
According to NerdWallet, the top three most profitable types of small businesses are:
Food trucks
Car wash services
Auto repair
The profits these industries make aren't limited to small businesses. If you would prefer to open a franchise instead of hunting down an existing business for sale in these industries, here are a few options from Franchise.com that might capture your interest:
Repicci's Real Italian: This food truck serves authentic Italian ice, gelato, coffee, and hot chocolate. Plus, customers can download the mobile app to find out where your truck is located each day.
Team Blue Hand Car Wash: Start a car wash that boasts seven years of operational and financial success. They're well on their way to becoming the first car wash franchise with national recognition.
Tuffy Tire & Auto Service Centers: This franchise has helped customers with their cars for over 45 years. They partner with vendors across the nation to get the right parts for their customers.
How to Find a Business to Buy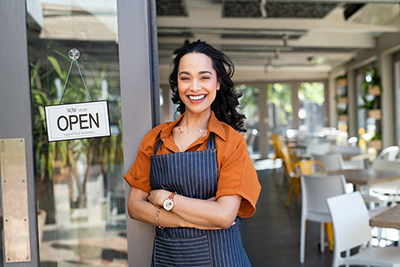 You have a few different options for how to find businesses to buy:
Check the ads. Some business owners may put notices in the newspaper, industry publications, or online, letting the public know that they want to sell.
Call local businesses. While this method can be daunting, you may be able to find businesses for sale that didn't openly advertise it. Even owners who aren't selling might be able to direct you to someone else in the area who does want to find a new owner for their existing business. How do you ask to buy a company? You can:

Write a letter.
Set up a call.
Meet with the business owner.
When you do, make sure to explain why you're interested in buying their business. Provide them with your resumé so they get a better understanding of what your professional background is.
Pay a business broker. These professionals will learn what sorts of businesses interest you and help you find good options to choose from. Typically, they will charge 5-10% commission on the amount you paid for the business.
Search a business directory website. Websites like Franchise.com compile lists of business opportunities and franchises for sale in your area. And they organize businesses based on industry, investment level, and more so that you can more easily compare franchises you want to start.
If you want to buy a locally owned business, calling around or searching local newspaper and magazine ads are probably your best options. If, however, you want to buy a business that is more widely recognized and easier to track down, then turn to Franchise.com.
Find Existing Franchises for Sale on Franchise.com
Whether searching for a small business for sale or a larger operation to run, finding businesses for sale is easy with Franchise.com. All you need when going onto the website is an idea of where you want to open your business, how much you want to invest, and what industry you'd prefer. From there, find the franchises that most appeal to you. Requesting information about each of your favorites is free, making it easier for you to decide.
Ready to get started? Take a look through our directory.