"A penny saved is a penny earned," as Ben Franklin put it, but what about a penny invested? It's tempting to put your pennies to work for you, and one popular type of investment is in franchise opportunities. You may have heard stories of how franchise owners don't have to do anything and the dollar bills just stack up or maybe you've seen franchises close quickly with "going out of business" signs still hanging in the window.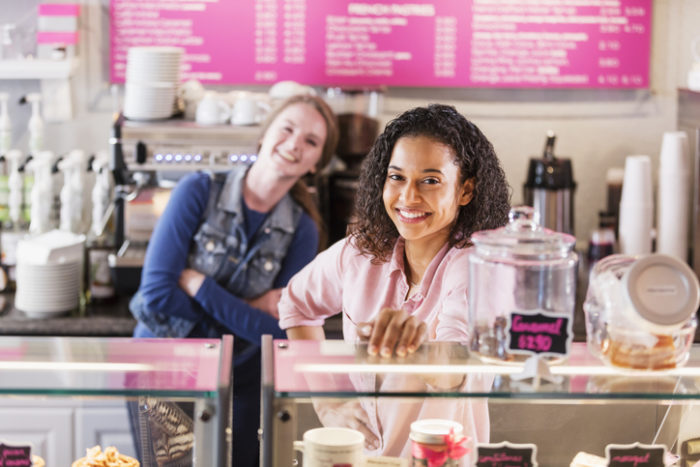 So is owning a franchise a good investment or a poor choice? Let's look at buying a franchise pros and cons.

Why franchising is a good idea

Like many investment opportunities, there are pros and cons of being a franchisee. Looking at the pros, there are a lot of reasons why people choose to invest in franchises.
Easy to start
When it comes to starting a business, purchasing a franchise is a turn-key solution that provides you a quick and simple start up. Instead of having to figure out all the logistics, franchises are a proven business model and system with an established brand. The beginning of a business is often one of the most difficult and uncertain times, and going with a franchise gives you a leg up.
Comes with support
Unlike starting a business from scratch, you won't be alone when you purchase your franchise. Most franchises come with training and support from the corporation. In fact, for most franchises, you don't even need to know anything about the industry – you'll be taught everything you need to know to be successful. The ongoing support can also be extremely helpful, since you won't have to rely on just yourself. Some franchises have marketing teams or support staff who will come out and help you in whatever area you need help in.
Different models to choose from
There are three different types of franchises depending on what you are looking for. Most people are familiar with the business format, where you are licensing a brand and a system of doing business, but there are also product distribution formats like John Deere where you sell those products exclusively or management format like the UPS Store where you run the operations.
Lower risk than starting a business from scratch
Starting your own business is risky. You don't know if your product or idea is viable and you're putting your money on the line for something that hasn't been tested. With a franchise, those worries are minimized. In order to become a franchise, these businesses have been successful, otherwise they wouldn't be trying to expand to new locations!
Potential for high profits
Many franchises are in industries that are very popular and continue to grow. Senior care franchises, commercial and residential cleaning franchises, and health and wellness franchises are a few of the popular ones that have seen high profits recently. CBD franchises are also booming with a current interest in CBD products across the nation.
Why franchising is a bad idea

Although these are a few of the good things about franchises, what are the risks of buying a franchise?
"Proven" isn't perfect
A proven business just means that it has worked somewhere at some time—it may not work in your location or with the specific economic factors that are currently at play. An ice cream franchise might do amazingly well in Florida, but struggle to survive in Alaska. A lawn care franchise could have high profits in Ohio but barely make ends meet in Arizona. There are many factors to consider when investing in a franchise and often they're not as simple to identify what outside variables will hinder your franchise from thriving.
Lack of control
Most franchises have stipulations and agreements about how you run your business. While that can be helpful, it also can be annoying or frustrating. If you are an independent person who likes to try new things and experiment, franchises might not work for you. Some franchises have stricter rules and others are more lenient, but the fact remains that ultimately, you have to play by their rules in order to run a franchise.
May need liquid asset to start
While financing options may be available, most franchises require an upfront chunk of change in order to start. Many people don't have access to the liquid assets needs and find it difficult to come up with the initial investment amount.
Potential for losing money
If things start going wrong, like any business venture, you stand to lose your investment. There is risk involved and just because it is a franchise doesn't mean you can't lose your shirt. If you aren't able to put in the work needed or there are outside variables that affect your franchise, you may not see the return on investment that you hoped for.
So…is owning a franchise a good investment?

After looking at the pros and cons of owning a franchise, the question still remains: Should I invest in a franchise? Unfortunately, there's not a cut and dried answer to that. If you are looking to put your pennies to work for you, franchises do have the potential to have a good return on investment—as long as you're willing to work for it. Franchisors don't just look for people who have the cash on hand they need to start up a new business; they also want motivated individuals who have what it takes to make the new business a success.
When considering whether or not owning a franchise is right for you, be clear about your motivations. If you're looking for the challenge and rewards of owning a business without the risk of building a startup from scratch, franchising just might be the best of both worlds you're looking for.
Where do I start?

Take a look at Franchise.com and see what franchise opportunities are available in your area today. You can read more about franchises and browse our educational resources to learn more and see if franchises are right for you. Download the Franchise.com app so you can browse easily on the go and keep up to date on franchise news and opportunities.