MaidPro, FlyFoe, and Men In Kilts are in the giving spirit early! The three home service franchises are offering two specials:
1. Veteran Discount
Typically, veteran discounts are a percentage off the franchise fee that are given to those who have served in the US military, armed forces or reserves and their family members who are interested in purchasing the franchise. MaidPro, FlyFoe, and Men In Kilts are offering discount packages valued at $15,000 and are extending this discount to first responders. First responders included are police personnel, firefighters, and paramedics/EMTs. Specifically, the discount package includes a $3,000 discount on the initial franchise fee; $100 invoice credit each month for the life of the 10-year agreement; direct financing or financial assistance enabling veterans to start with little up-front capital.
2. Conversion Discount
The conversion discount is a limited time offer to existing business owners in a related field to convert their business to these three franchises at no cost. For example, an owner of a maid service could convert their business to MaidPro, and a pest control business owner could convert their business to FlyFoe, etc. without paying any of the up-front fees. As part of this special, current business owners do not have to pay any royalties on their existing customers for the life of the franchise.
Home service franchises are a great fit for military veterans and retired or part-time first responders looking to become business owners. You can operate these three highlighted businesses on a seasonal or part-time basis. Also, what makes them so attractive is the low cost of entry. Take a look at the business features in each franchise below.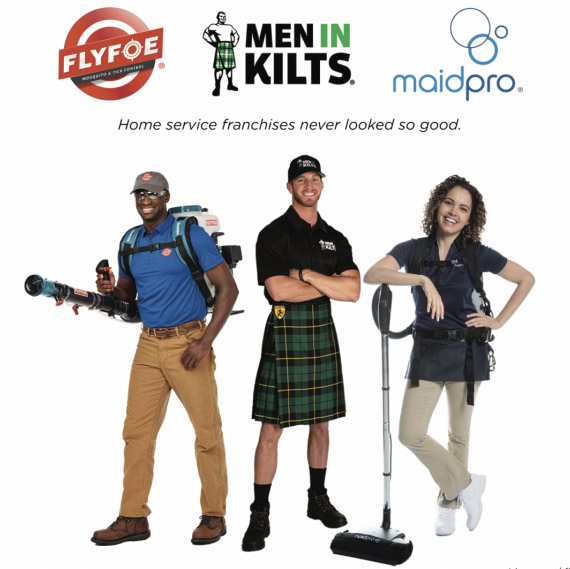 Franchise Spotlights
MaidPro Franchise
Located in Boston, MA, MaidPro is a home cleaning business that prides itself on being a flexible franchise that allows its franchisees to be the entrepreneurs they want to be. Tap here to take a closer look at how MaidPro is different from other cleaning franchises. In 2019, Forbes Magazine rated MaidPro in the Top 10 Best Franchises to Buy.
Founded: 1997
Franchisees: 160+
Total Investment: $74,560 - $159,610
Cash Required: $75,000
Franchise Fee: $20,000
Royalty Fee: 4%-7% (decreases to 4% as your maid franchise grows)
Marketing Fee: 1.5%
To learn more about MaidPro, click here.
FlyFoe Franchise
With the growing threat of disease transmitted from mosquito and tick bites, starting a FlyFoe franchise allows owners to bite back. Provide families with the solution to help them enjoy the outdoors safely again.
Founded: 2017
Franchise Units: 7
Total Investment: $72,940 - $139,490
Cash Required: $75,000
Franchise Fee: $17,000
Royalty Fee: 6%-9% (decreases to 6% as your mosquito franchise grows)
Marketing Fee: 1.5%
To learn more about FlyFoe, click here.
Men In Kilts Franchise
The Men In Kilts unique branding was designed to make an impact and to represent a fun, get-the-job-done business. From one-time cleaning jobs to seasonal services and recurring business, a Men In Kilts franchise offers the opportunity for long-term success. Although the Men In Kilts' primary focus is on cleaning the exteriors of residential homes and commercial properties, it provides many seasonal services:
Window cleaning
Gutter cleaning
Siding cleaning
Pressure washing
Snow removal
Founded: 2002
Franchise Units: 30
Total Investment: $75,000 - $210,000
Cash Required: $75,000
Franchise Fee: $17,000
Royalty Fee: 5%-8% (decreases to 5% as your exterior cleaning franchise grows)
Marketing Fee: 1.5%
To learn more about Men In Kilts, click here.
Enter the home services industry or convert your existing home services business and become a MaidPro, FlyFoe, or Men In Kilts franchise owner. With the increase in home sales, more homeowners will need the services these franchises provide.