Panera Bread operates both company-owned and franchised restaurants that they refer to as cafés. In 2015 the company surpassed 2,000 total cafés, with approximately half of these being a Panera franchise. However, Panera Bread does not sell single unit franchises.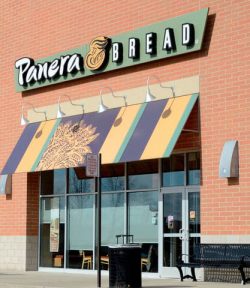 They use the franchise expansion model for larger market development with investors that typically open 15 cafés over a 6 year development agreement. So, people looking to buy and open a single Panera franchise may want to look at other opportunities in the quick service restaurant category
Panera is well established brand known for its healthy menu and innovations around customer experience. The good news is that there are many other food franchises like Panera Bread that do sell single units. Some, like Subway and Little Caesars Pizza are very well known while others like Capriotti's Sandwich Shop, The Dapper Doughnut, and Dickey's Barbecue Pit, are lesser known but sill have a lot of prime markets available to open your franchise business in.
If you're considering buying a food franchise business, keep in mind that startup costs in are higher than, for example, some home services franchises that can be operated from a home office. With any retail franchise, location is critical as is finding, training, and retaining employees. However, the successful franchises in the food category have proven systems in place to help franchise owners overcome operational challenges that are often more difficult to navigate for independent businesses.
You have many options when it comes to finding a franchise to buy and operate. If you've become interested in a Panera franchise based on your own experience as a customer, you're on the right track! Now, start exploring your options to find the next quick service food franchise where you can be part of a growth story like Panera Bread!