Franchises constantly adapt and grow, but the pandemic forced lightning-fast, massive innovations. People who own a franchise are grateful for the support they received in 2020 and the creative pivots that have strengthened their businesses and the industry overall. The future is bright for franchising, and 2021 will be a significant year for growth. I have several reasons for feeling confident about that prediction.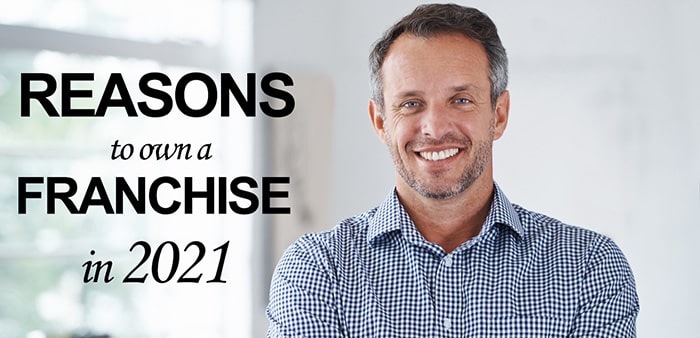 1. Opportunity to Own a Franchise
More people are seeking income opportunities. Some were laid off and don't want to return to employers that shed workers to pad the bottom line and mollify shareholders. These future franchisees are smart, well-educated and highly motivated, and many have budget and management experience. They see the wisdom in a proven business model and have the discipline to follow a franchisor's path to success.
They're also driven by personal desires. They want to call the shots in their careers, setting their own hours and ensuring a work-life balance for family time as well as pursuit of passions unrelated to their day jobs. This is particularly true of women who left the workforce because they no longer had safe, reliable childcare. Federal agencies say 19.6 percent of working-age adults left the workforce because their childcare evaporated, and women 25 to 44 years old were almost three times as likely to be out of work.
These folks are tailor-made to own a franchise.
2. Support when You Own a Franchise
People with an entrepreneurial desire are reassured by a franchisor who is at most a phone call away if a challenge arises in setting up and operating their franchise. Independent start-ups lack this support system. 2020 was the worst year ever, but franchisors stepped up to help, often reducing franchisees' financial obligations. If wannabe entrepreneurs doubt that, they can call a franchisee to ask, "How did your franchisor help you make it through the pandemic?" If the franchisee praises empathy and assistance in 2020, excellent support is a given in better times.
3. Technology Advancements
Franchises – restaurants first come to mind, but they're not alone – quickly adapted to the new normal, often incorporating high-tech solutions. They began offering delivery, created new or enhanced online ordering capabilities, set up drive-thru lanes with cones on their parking lots, and embraced curbside pickup.
Throughout the industry, meetings and training went virtual, eliminating the need for travel and reducing health risks. Many Franchise Discovery Days moved online, with franchisors cleverly sending food to wherever the future franchisee sat with a camera. Even when things are back to normal, these virtual meetings will be a great option for people who can't fly or leave home for personal reasons.
Technology has kept the industry moving and will make it stronger for years to come. Early 2021 will bring the first-ever, 100% virtual annual convention for the International Franchise Association (IFA). And my business was no exception. For a franchise broker network, it is so important to connect members. I would never have thought that we would do it virtually, but this year, we held a virtual conference and it was a huge hit, with a large turnout and members totally engaged. This move to technology has made my business — and the entire industry — stronger overall.
An interesting flip side is a renewed appreciation for face-to-face events. Everybody misses hugs and handshakes, so when in-person meetings fully resume, heightened enthusiasm and meaningful, strategic interactions are certainties.
4. Franchise Adaptations
For Franchisors, the pandemic has directly created opportunities that will persist in 2021. For example, FASTSIGNS® now fabricates floor decals for proper social distancing and sneeze guards for businesses requiring in-person interactions. Those who own a franchise dealing in cleaning services and supplies – Puroclean®, City Wide and Office Pride® come to mind – increased sanitation services to wipe out the COVID-19 virus. Others expanded product lines to include personal protective equipment (PPE) and sanitizers. My Eyelab, a retail eye care brand, attributes part of its tremendous 2020 sales growth to its use of telemedicine.
5. Collaborations
2020 saw increased collaboration – friendly competition or "coopetition" – among franchisors. The industry came together to share tips and new best practices for getting through an unprecedented challenge. There was a feeling that "we're all in this together," instilling confidence and a sense of family across the industry.
6. Own a Franchise with Improved Systems
Many franchisors used the downturn for training and for transitioning to upgrades in software and equipment. When franchises temporarily shut their doors, they weren't idle – they improved their businesses' efficiency. New franchise owners will certainly reap the benefits.
7. Real Estate Opportunities
With so many small businesses shutting their doors for good, commercial real estate is a buyer's market right now. This means any franchisee needing a storefront can negotiate a bargain.
Folks who hope to own a franchise will find peace of mind in knowing the industry has conquered tremendous obstacles. You can see why I'm fired up about franchising in the New Year!