The franchise business model generated about $827 billion for the US economy during 2022. The industry is booming. This prosperity—combined with the opportunity for franchisees to become their own boss—can make applying to open a franchise a competitive process. In fact, Insider reports that you have a higher chance of getting accepted to Harvard than for opening a Chick-fil-A location! Fortunately, there are plenty of franchise opportunities with higher acceptance rates.
However, aspiring franchisees may run into another hurdle: securing financing. That's where a franchise business plan comes in. This is your opportunity to prove to lenders that your franchise location will be successful. Here's what you need to include.
What Do You Need To Start a Franchise Business?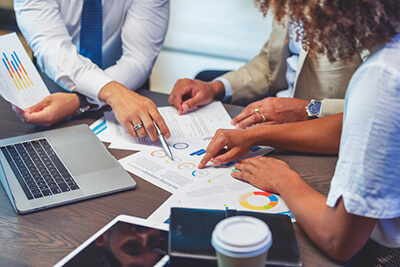 To start a franchise, you'll need a passion for what you do, a thorough understanding of the market you're entering, a sufficient amount of funding, and a good deal of paperwork. Use this checklist to help you get started:
A strong desire to own and operate a business. Being your own boss is a great goal to strive for—and it can have many benefits—but it still requires a lot of time and determination.

Knowledge of which franchise opportunities are available to you. To start your research and determine which franchise best meets your goals and needs, visit Franchise.com, and sort opportunities by:

Industry
Investment Level
Location

A business plan. This document covers important details like your market's competitive landscape and how you'll gain funding to start your franchise. A business plan isn't always required, but it's usually a good idea to have one, especially when applying for financing (more on this later).

A completed franchise application. Think of this as a job application with more detail. Aside from the usual information like your qualifications, education, and reasons for applying, you'll also need to provide financial information that shows you're ready to invest in a franchise.

A desirable location. If you're going to operate a brick-and-mortar business, then location is key. This determines your visibility, accessibility, and foot traffic. Some franchises let you choose any location as long as it doesn't overlap with existing territories. Others, like StretchLab, offer guidance on selecting the ideal spot.

Funding. Different franchises require different financial situations to get started. Franchises may have requirements for minimum liquid capital, net worth, and investment level. For example, Pickleman's Gourmet Café franchisee applicants must have $150,000 in cash and be able to make a total investment of $398,000-$850,000 (depending on the size of the location and other factors).

A franchise agreement. What is a franchise agreement? This document sets the legal terms for your role as a franchisee and establishes your responsibilities as well as those of the franchisor. For example, franchisors will typically provide training for business processes, staffing, marketing and more. This agreement also determines how many locations you can open. There are four main types of franchise agreement:

Single Unit: Allows you to open and operate a franchise in a single location.
Multi-Unit: Allows you to open and operate a franchise in multiple locations.
Area Development: Allows you to open and operate a franchise in multiple locations and collect a portion of franchise royalties from other locations sold in your territory.
Master Franchise: Allows you to become a sub-franchisor for the brand in a set region.

A legal structure. Many franchisees ask, "Should I form an LLC before buying a franchise?" The answer is sometimes. There are several ways to register your business to comply with Internal Revenue Service (IRS) requirements:

Sole Proprietorship
Partnership
Corporation
Limited Liability Company (LLC)
Each type of entity has its own legal and tax implications, so be sure to work with a professional to choose the right structure for your franchise.
Do I Need a Business Plan To Buy a Franchise?
Having a business plan is not a requirement to start a franchise, but it may still be necessary to open one. Why do you need a business plan in franchising? Because many banks will require a business plan as part of your application for a commercial loan. Unless you have the resources to open a franchise without external financial support, then you will likely need a thorough and impressive business plan. That way, investors can feel confident that your business will be successful and you'll be able to pay them back.
The good news is that many franchisors, like Bruster's Real Ice Cream, provide franchisees with a business plan to offer guidance and help secure funding.
What Is Included in a Franchise Business Plan?
When writing a business plan for a franchise, you should include the following:
Executive Summary: Describe the franchise's model and list successes that it has achieved. For example, you might include how locations have exceeded $1 million in average gross sales when writing a plan for Nékter Juice Bar.
Company Overview: Give details about the company's past performance and future plans. Have they consistently had the highest brand recognition in their industry? Are they preparing to launch new and exciting products?
Industry Analysis: Provide forecasts for the industry you're entering. Is it growing or shrinking? Are wider economic trends affecting price points?
Customer Analysis: Describe your target market. Who is your ideal customer? What are their characteristics and purchasing habits?
Competitive Analysis: State how your business will compare to competitors. Is your market crowded? Do you have clear strengths to appeal to customers? How will you overcome competitive disadvantages?
Marketing Plan: Give details about how you will appeal to your target audience. Many franchisors, like Club Z! Tutoring, provide extensive marketing support, which you can describe in your plan.
Operations Plan: Go through your business processes from staffing requirements to the equipment you need. One of the main advantages of starting a franchise is that you're working with a proven business model, so be sure to emphasize that here.
Management Team: Instill confidence in your business by describing your team's qualifications. You can also use this section to describe how your business will adapt should you or another manager become unable to work.
Financial Plan: Show how you plan to finance your business. How much capital will you provide yourself? How much will you need from investors? What are your projected sales, profits, and what return will you expect to provide investors?
You can download this franchise business plan template, created by DECA, to kickstart your planning process.
Plan To Succeed with Franchise.com!
When it comes to choosing which franchise to open, these 3 qualities are what matter most:
You are passionate about what the business offers.
You have the capital (or can acquire the resources) to open the franchise.
You operate in an area where the franchise is available.
Franchise.com makes it easy to sort opportunities by industry, investment level, and location. That way, you can focus on exploring franchises that excite you, are affordable, and are looking to expand in your area. Visit our directory to see what's next!