The realm of retail franchising beckons individuals across a wide age spectrum, each bringing a unique set of aspirations and capabilities to the table. For those within the 35-44 age group, the allure of franchising presents a promising avenue to blend accrued experience with entrepreneurial aspirations. As this demographic navigates the retail franchising market, understanding the nuances of the competitive landscape becomes pivotal. 
This blog explores the distinct opportunities and challenges faced by the 35-44 age demographic, offering insights to help position themselves strategically in the retail franchising ecosystem.
Analyzing Statistics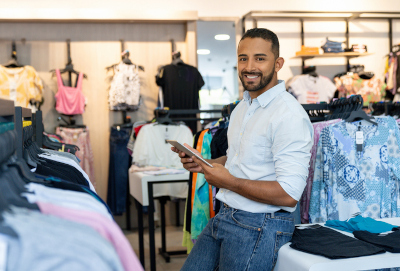 Engagement Statistics
A glance at our website analytics reveals a snapshot of the engagement pattern of the 35-44 age demographic in the retail franchising sector. Accounting for 22.17% of total Retail page views, with an average time on page of one minute and 48 seconds, and a bounce rate of 72%, this age group exhibits a blend of interest and discernment. The data paints a picture of an audience that's exploring, yet cautious, providing a baseline to understand the competitive dynamics.
The data reflects a balanced mix of curiosity and selectivity, hinting at a ripe opportunity for individuals ready to delve deeper and differentiate themselves. Utilize the insights from these statistics as a springboard to align your franchising endeavors with the evolving market dynamics.
Retail Industry Statistics
Franchise Opportunity
Buddy's Home Furnishings, with its proven business model and a solid reputation in the home furnishing sector, offers a sturdy platform for individuals in the 35-44 age demographic to venture into retail franchising. The comprehensive training and support provided by Buddy's franchise system can be immensely beneficial for this age group, enabling them to leverage their accrued life and professional experience in a business environment that fosters growth and success.
Conclusion
The journey into retail franchising for the 35-44 age demographic is a blend of opportunities and challenges, each shaped by the unique behavioral patterns and market dynamics at play. With a strategic approach, grounded in a thorough understanding of the market and a clear differentiation strategy, individuals in this age group can navigate the competitive waters of retail franchising successfully.
Step into the retail franchising arena with a well-informed and strategic mindset. Harness the insights provided by the data, engage with the franchising community, and explore the myriad of franchising opportunities awaiting in the retail sector, to carve a successful entrepreneurial journey.